Might have to start doing this every other friday because it's becoming increasingly difficult!
Let me know if you'll prefer that.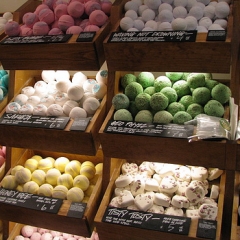 At your local lush, there will be a bath bomb workshop and you get to take it home! Here are dates and places.
13-Apr - Poole, Hull, Taunton
14-Apr - Bournemouth, York, Bath
15-Apr - Southampton, Leeds, Bristol
20-Apr - Swansea, Truro, Brighton
21-Apr - Cardiff, Plymouth, Chichester
22-Apr - Bristol Cribbs, Exeter, Portsmouth
27-Apr - Maidstone, Norwich, Inverness
28-Apr - Crawley, Colchester, Aberdeen
29-Apr - Basingstoke, Chelmsford, Dundee
04-May - Cork, Belfast, Edinburgh
05-May - Dublin (Henry), Newry, Carlisle
06-May - Dublin (Grafton), Dublin (Grafton), Newcastle
11-May - Sunderland, Preston, Derby
12-May - Middlesbrough, Man. Trafford, Nottingham
13-May - Harrogate, Liverpool, Leicester
18-May - Northampton, Watford, Gateshead
19-May - Milton Keynes, High Wycombe, Man. Arndale
20-May - Luton, Oxford, Sheffield
25-May - Chester, St Albans, Peterborough
26-May - Telford, Kingston, Cambridge
27-May - Birmingham, Guildford, Reading
01-Jun - Livingston, Manchester, Solihull
02-Jun - Glasgow (Sauchiehall), Wakefield, Redditch
03-Jun - Meadowhall, Lincoln, Worcester
08-Jun - Warrington, Glasgow (Braehead), Merryhill
09-Jun - Coventry, Stirling, Carmarthen
10-Jun - Swindon, Glasgow (Buchanan), Cheltenham
15-Jun - Bolton, Eastbourne, Romford, Stratford
16-Jun - Doncaster, Bromley, Lakeside, Wimbledon
17-Jun - Hanley, Croydon, Bluewater, Windsor
04-Aug - Regent Street, Liverpool St
05-Aug - South Molton St, Kings Road
10-Aug - Victoria Station
2) Free Sample of Colgate Toothpaste
You can get your hands on a free sample of Colgate Sensitive Pro Relief toothpaste, by requesting it here. After five days of using your product you can share your feedback and get money off your next Colgate purchase.
3) Free Origins Moisturiser
Take any empty facial moisturiser to your nearest Origins shop or Concession stand (locator here) on 21st April 2012 and get a free full sized pot of either

Starting Over Age-erasing Moisturizer with Mimosa' (RRP £36) or 'A Perfect World Age-defense Moisturizer with White Tea' (RRP £32) as part of Origins Earth Month.
(There's only 5,000 pots to be spread around so it might be worth while to go early to avoid disappointment.)
That's about it again, sorry that there's not much going on in the freebie world!