This week I've joined in with the 'Makeup Monday' posts.
I first heard of it last week on Nina's blog, and thought it was a fab idea!
This week is the 7 Deadly Sins of Beauty challenge, so lets get started.
1.
GREED
: What is your most inexpensive beauty item? What is your most expensive?
I don't really own any high end makeup, only drugstore so the products I tend to buy aren't particularly expensive anyway. I think my E.L.F Essential Line lipsticks would be my most inexpensive as I bought these when they had the 50% off so I ended up getting them for 75p each. Even their full price of £1.50 is cheap as chips!
My most expensive beauty item is probably my Lady Gaga perfume I got for Christmas from my parents, after wanting it for so long! Although I'm not sure if it counts, as I didn't pay for it myself!
Other than that it would probably be, wow this is hard! Probably my RCMA Sample Foundation palette that I paid about £48 for from online.. I then had to pay even more because of the handling fee Royal Mail charged me!

2. WRATH: What beauty products do you have a love/hate relationship with?
Probably lipstick and lipgloss. I just don't think it suits me and my smallish lips but buy it anyway because I love the look of certain colours! I can't really get on with lipgloss because I hate the sticky feeling most of them give and I don't think I look right with shiny lips? I think I also just don't like drawing attention to my mouth, aha! I am slowly trying to get into using them with Sexy Mother Plucker lipgloss I got from my Best of All bag I got around Christmas time.
3. GLUTTONY: What are your most delicious beauty products?
Well, in terms of delicious smells, I'm so in love with Soap & Glory at the minute!
So combine that I will have to go with my A Great Kisser lip balm in Vanilla Bean, from Soap & Glory. Vanilla is my most favourite smell in the whole wide world. Plus it really moisturises my lips too so that makes my lips delicious too, doesn't it? My bubblegum lip scrub from Lush is a close second though, tasty!

4. SLOTH: What beauty product do you neglect, due to laziness?
Moisturising my body and shaving my legs! So embarrassing really! The shaving legs part anyway... I need to get back into waxing them methinks! As for moisturising.. I have such lovely smelling ones but once I get out of the bath I just want to get into my jim jams and sleep!

5. PRIDE: What beauty product gives you the most self confidence?
Foundation! My complexion isn't really that bad.. But I don't have the confidence to go out with anything on it! I had to when I had a random reaction to a hair product and it felt pretty liberating but quickly went back to wearing foundation again when I could. I'm currently in love with Revlon Colourstay for normal/dry skin. I think I'll go back to Bourjois Healthy Mix in the summer though.

6. LUST: What beauty products do you want the most?
At the minute, Illamasqua's cream pigment in Hollow, I keep seeing people wearing it as a contour which makes me want it more and more!

7. ENVY: What items would you most like to receive as a gift?
More Fame by Lady Gaga :) or perfume in general! I never buy it for myself because I can't convince myself to spend to much on it. I'm about half way on my bottle of Fame, I don't want it to end! :(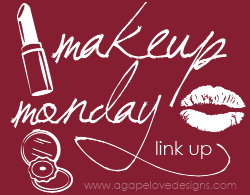 Click the picture to go onto the Agape Love Designs to see her 7 Deadly Sins post, and to see others who have taken part in Makeup Monday today. :)
I hope you enjoyed the post. I think Makeup Monday is a great way to find more blogs!