Hello my lovlies! Sorry for the lack of post yesterday, we got a new puppy and it's hard to right posts as he likes to chew the laptop and it's wires!
Look how cute he is! We called him Milo, he is a Powderpuff Chinese Crested and he was 8 weeks yesterday. Let me know if you want anymore posts about him or my other dogs!
1. Free Garnier Moisturiser Samples
Enter your details here on their online form, to get free samples posted out within a couple of weeks.
It's first come first serve so you'd better be quick to avoid disappointment.
2. Free Nails Inc nail polish
In June's edition of InStyle (with Eva Green on the front) there is a full sized polish for free, the mag is £3.80 so it's a fab deal. Available from the 3rd of May.
3. £24 Burt's Bees Lucky Grab bag with £55+ worth of products.
I know technically, this isn't a freebie, but a certain amount of it is. Buy the Premium Grab Bag here, and you get £55+ of products, (the bag is £20 and the postage is about £4), which is a real bargain. B

ag includes an 8oz full-size Milk & Honey body lotion, three other random full sized products and eight mini ones.

Some of the products may be in an older version of packaging an / or may be scratched. You can get free delivery on orders over £25.
An example of products are
-Milk & Honey
body lotion (8oz) worth £9.99
-

Radiance Healthy Glow kit
worth £14.99
-

Radiance body wash
worth £5
-

Grapefruit & Sugar Beet shampoo
(approx 1oz) worth £1.50
4. Free UNE Skin Glow Foundation Sample
Boots are doing free samples of UNE Skin Glow Foundation here in shade G08 only.
Sorry if it's not your colour! I guess you could always give it to a friend?
5. Free UNE Lipstick when you buy Natural Beauty Tshirt.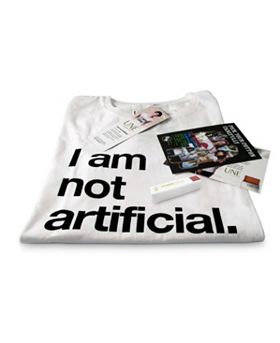 When you buy this £14.99 tshirt here, (+ £2.95 postage) and get a free UNE lipstick. £2 of this purchase goes to EJF's

campaigning work and promoting a fair, sustainable, organic future, which is a great cause.
Hope you found this useful, oh &
May the Fourth be with you! :)